| | |
| --- | --- |
| Posted by PrimRose on April 18, 2020 at 7:05 AM | |
Vanna White was a goat that lived at the sanctuary for many years, first sharing a stall with her good friend Christina Rose sheep, who has gone over the rainbow bridge, then with Preston goat. Vanna was also known as Shadow as she loved to follow people around but in my experiences with Vanna she had more of a "Vanna White" personality. Vanna had so much character she was quite sure that some of the volunteers ( me included )were meant for play time perhaps she thought we were fellow goats. Although no heads were quite as hard as hers!
On visiting days Vanna would come out of her shelter to greet the visitors when called. She would swagger out and come over to the fence to have her cheek scratched although this could also include a nip. Just to show how hard her head was she would rub and butt the fence. Look out if your fingers were in the way! The windows in the shelter meant she could keep an eye on visitors and any hay that was being delivered to her feed box.
She and Preston goat became good friends although she was known to become jealous if she felt Preston had been pet or scratched too long and it was her turn. At times Vanna and Preston would play goat games such as head butting and rearing up to play. Although Preston was much younger, taller and feistier, Vanna never stepped down and gave it her best.
Rest In Peace Vanna we will all miss you terribly. Vivian
Vanna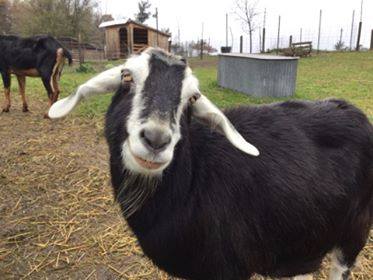 Vanna and Preston